expired D-Link Network Starter Kit PowerLine AV500 Passthrough DHP-P309AV (Buy One Kit Get Another Free Via Redemption) ~ $82 Delivered
90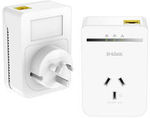 Affiliate
CLICKNZ15
Each kit contains 2 units, so you'll be getting 4 units in total.
Redemption link for free kit @ http://registration.dlink.com.au/redemption.aspx?id=71
Valid for purchases until 31/3/2017.
Redemptions must be mailed in by 14/4/2017
T&C:
Please note that you cannot redeem product(s) purchased from EBAY (unless the store is a Verified D-Link Partner), Grey Import or Service Providers. Your product(s) Serial Number will be validated against our records. You will need your product serial number and the receipt as part of the redemption process. For any enquiries or verifications please contact:promos@dlink.com.au
Limited to 3 per person and 3 per household. Excludes E-Bay (unless store is Verified Partner), Unauthorised E-Tailers and/or Service Providers. Applicable to Authorised Retailers only. Cannot be combined with any other offers. Contact promos@dlink.com.au to verify.
You must print the final step of the online redemption form, sign and attach the original barcode cut-out with a copy of proof of purchase. If the original barcode or any other documents are missing, your claim will be rejected. We recommend you keep a copy of your redemption documents including cut-out barcode.
Documents must be received by D-Link by 14/04/2017 5pm AEST (cut-off date).
Allow up to 60 days from the cut-off date to receive your bonus offer.
Supporting documents must be sent via registered post, express post or any other method that provides proof of delivery. Failure to do so is at your own risk. D-Link will not be held responsible for any destroyed, misdirected, stolen, lost or delayed mail.
D-Link reserves the right to change or terminate this offer at any time without prior notice. All decisions made by D-Link are final and no correspondence will be entered into.
You may be asked by D-Link to also provide a copy of documents that were already sent to D-Link.  
This promotion is for end user customers only. All reseller claims will be rejected.
This promotion is VOID where prohibited or restricted by law. Failure to comply with the above conditions will result in your claim being rejected.
D-Link is a registered trademark of D-Link Corporation. All other trademarks are the property of their respective owners.

Dick Smith is selling them as the cheapest on PriceSpy. Next cheapest local stock on PriceSpy is $119 from DTC.
However, if you buy via their eBay store it's ~nz$97 minus 15% with the CLICKNZ15 code (tested and verified in my eBay cart).
Response from D-Link confirming that Dick Smith is a valid partner:
Yes, Dick Smith (eBay ID: dicksmithnz) is our authorized retailer.
Thanks!
Best Regards,
Albert Su
Channel Account Manager
D-Link Australia Pty Ltd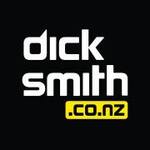 Related Store: Dick Smith / Kogan