expired Chuwi Lapbook 12.3 US $270.69 (NZ $373) @ Banggood
60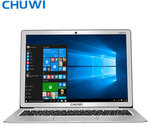 Affiliate
Banggood is having a flash sale until 2pm NZ time, with further discounts on a large range of products.
The Chuwi Lapbook 12.3 is down to the lowest price I've seen (the price hovered around the US$300 mark for the past month) at $270.69 shipped with EMS express service. Here's a review by a fellow Kiwi, TechTablets, The Lapbook 12.3 has similar specs as the well received Lapbook 14.1, plus 6GB RAM and a 2K Surface screen.
Another good bargain is the Gitup Git2 Pro action camera, now down to US$80 shipped. It's a great action camera for the price, here's a review from Techmoan. The Git2 Pro has gyro stabilisation, which compares very well aganist a used GoPro Hero 3 in the same price bracket. Well that wasn't expected, the deal expired so soon after posting. :(
Please don't forget to use a cashback service, like Quidco or TopCashback!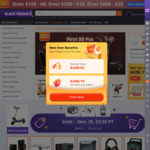 Related Store: Banggood