expired Firestone Fish Burger, Spud Fries with Aioli and 330ml L&P $18.30 (Usually $23.80) @ Burger Fuel
60
FUSHVIB
Five years ago today we rolled out our delicious, critically acclaimed Fush & Chups Meal, and due to popular demand, that unforgettable bad boy is back for another New Zealand summer!
It's time to slip into trendy slides, slap on some SPF 50+ (cheers to the Ozone Oz-hole) and fill up the chilly bin because we've got your beach picnic sorted with the Fush & Chups meal - A Firestone Fish burger, our golden Spud Fries with Aioli and an icy cold L&P! 
The Firestone Fish burger is filled with crispy beer battered snapper pieces, chunky batch made tartare sauce and accompanied with fresh lettuce, tomato, red onion and tomato relish.
Some assembly is required for a maximum taste explosion, lift the lid on your Firestone Fish burger, throw in some fluffy Spud Fries and reaffix burger lid. Wash it all down with a refreshing L&P, and you've got your Fush & Chups meal! BYO beach.
Like Donald Trump's hair cough, toupee, cough the Fush & Chups meal is only around for a limited time, available until March 5th or while stocks last.
Print this voucher and take it into any BurgerFuel in New Zealand (or show it on the smart device) to redeem. To use offer with online ordering, add the Fush & Chups Meal and then enter the code FUSHVIB at checkout. Not available with any other offer. One voucher per person, per visit. Expires close of business 22/01/2017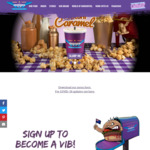 Related Store: BurgerFuel