expired Free $10 eBay Voucher (No Minimum Spend)
130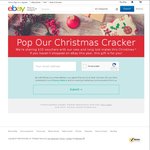 Affiliate
credit to post by triviums
I've entered my email address and see what happens.
update: reading the terms and conditions it specifies for aussies only, but I'm not sure how they will check that.
Terms & Conditions
$10 eBay voucher offer
General
1.By participating in this offer you agree to accept and be bound by these terms and conditions.
2.This offer commences at 10.00 (AEDT) on Monday 19 December 2016 and ends at 23.59 (AEDT) on Thursday 22 December 2016 ("Offer Period").
3.The offer entitles eligible participants to a $10 eBay voucher if they enter their email address where indicated during the Offer Period.
4.Limited voucher redemption codes are available – only while quantities last.
5.You must be an Australian resident to be eligible for this offer.
6.This offer is only available to those who are new to www.eBay.com.au, or existing eBay members who have not made a purchase on www.ebay.com.au in the preceding twelve (12) months.
7.This offer may only be redeemed once per person. You cannot submit multiple email addresses, create multiple eBay.com.au accounts or use other any other methods in order to obtain more than one voucher redemption code.
8.The offer cannot be withdrawn into your bank account and cannot be transferred.
9.To the extent permitted by law, eBay will not be responsible for any loss incurred by you in participating in this offer, including by redeeming or attempting to use the redemption code, or for any costs, damages, accident, delay, injury, loss, expense, or inconvenience that may arise in connection with the use of the redemption code.
10.eBay reserves the right to vary the terms and conditions of the offer at its reasonable discretion by publishing revised terms on ebay.com.au.
11.The parties submit to the non-exclusive jurisdiction of the courts of the state of New South Wales.
Issue and use of the voucher
1.Eligible participants will be emailed a voucher redemption code by 23 December 2016. The voucher will entitle the recipient to $10 off the purchase price for one transaction on eBay.com.au.
2.The eBay voucher must be redeemed before 23:59 PM AEST on the date shown on the voucher, after which time it will expire and no longer be valid.
3.Each voucher can be used for only one transaction per person. Multiple items can be purchased in one transaction (up to a maximum of 10 items per transaction).
4.To redeem the voucher, recipients will have to enter the voucher redemption code specified in the email into the redemption code box during the checkout process.
5.The voucher redemption code will require payment with an Australian PayPal account in order to take effect. Each recipient's PayPal account must be active at the time of redemption (not suspended or made inactive).
6.eBay reserves the right to disallow or reverse a discount in circumstances where it believes a sale or purchase of any item as part of this offer has not been made in good faith. This includes any collusive conduct by buyers or sellers, or any other conduct which eBay considers unfair, untoward or not in good faith.
7.Gift cards, certificates,vouchers and shipping costs are excluded from the use of the voucher redemption code.
8.Vouchers are not to be used in conjunction with any other eBay or PayPal coupon/voucher.
9.Sellers are responsible for their own stock and eBay does not guarantee the availability of stock.
10.In the event a recipient of a voucher returns or seeks a refund on any item purchased using the voucher redemption code, the value of the redemption code will not be refunded to them.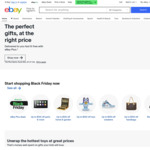 Related Store: eBay Australia