New World Gift Cards - $15 (85pts) $20 (115pts) $50 (285pts) @Fly Buys
Not a bad way to use up your Fly Buys points. These gift cards are only available a few times per year.
Steps:
- Purchase the gift card online using your Fly Buys points
- Print out the confirmation email and take it and your Fly Buys card to any New World customer service desk to pick up your gift card

Got a New World Clubcard?

If you've got a New World Clubcard, there's an easier way to get rewarded. You can swap your Fly Buys points into New World Dollars, which are instantly loaded onto your Clubcard to spend at New World.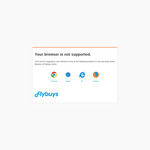 Related Store: Fly Buys NZ