expired Hillary Summit Cereal - "Like Me or I'm Free" Promotion

70
Energy cereal to fuel your adventure with up to 32% less suagr
https://www.facebook.com/notes/hillary-foods/competition-ter...
If you are dissatisfied with your purchase of Hillary Summit Energy Cereal (promotion product), post
your original proof of purchase or a legible photocopy with your purchase clearly marked and
purchase date visible, along with this fully completed claim form to: Hillary Foods, PO Box 109709,
Newmarket, Auckland
All claims must be received by last mail on 4 April 2018 in order to be eligible for a refund.
Only one claim redeemable per household.
Claim form is here: http://www.hillaryfoods.com/wp-content/uploads/2017/08/2081-...
Maximum claim $6.99 plus $0.90 postage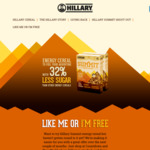 Related Store: hillaryfoods.com