expired Free Schweppes Spicy Ginger Beer with Purchase of Chop Shop Chicken @ Burger Fuel

70
CHOPSHOPVIB
We all know there's fried chicken and then there's BurgerFuel Chop Shop Chicken. You asked we listened, and it's back for a limited time only.
Six pieces of free range chicken, coated in BurgerFuel's crunchy gourmet cornflake charged recipe (so many secret herbs, so many secret spices). Cooked to golden perfection, lavished with Sriracha sauce and our famous free range BurgerFuel aioli. If you don't know, now you know.
Be warned, it will become a two-month long addiction. Chop Shop Chicken will change the way you eat, sleep and dream. This recipe was crafted with addiction in mind, for a filthy-healthy explosion of flavour.
Now, with Sriracha sauce lingering on your fingers, your mouth will be fiending something thirst quenching. Taste buds are shouting out for more, a flavour to savour the Chop Shop aftermath.
So, we've paired it with Schweppes Spicy Ginger Beer and for you, it's for FREE!
Offer available at any BurgerFuel in New Zealand. Both in-store and online. Not available with any other offer. Purchase Chop Shop Chicken and receive a Schweppes Spicy Ginger Beer for free. Offer can be redeemed via online ordering by selecting all products and entering the promo code CHOPSHOPVIB at the checkout. One voucher per person, per visit. Offer expires 22/10/17.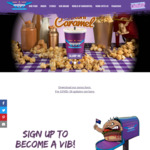 Related Store: BurgerFuel