PPSR/TXTB4UBUY Vehicle Check $3 - PPSR.govt.nz
The PPSR is used to find out if there's any money owing on a vehicle.
Some other sites out there charge up to $19.95 for this information plus other details.
Granted the PPSR price has not changed recently so might not be considered a deal but after seeing the post by Spackbace on ozb I thought this info might be useful for some people, I for one have used reports from other sites.
Happy if the mods want to move this into a wiki if not considered a deal.
It seems the difference between the NZ Govt site and the AUS Govt site is NZ requires a free logon to be used because you need to have a "good reason" to be searching , so I guess this is the way NZ covers that legal requirement.
There are two ways you can check if money is owing on the vehicle.
1.
The easiest option is to simply use your mobile phone to submit a TXTB4UBUY search.
Send an SMS text message containing a vehicle's registration number, VIN and/or chassis number to 3463.  Registration number and VIN recommended.
Enter any combination of these by separating each with a ? (question mark).  For example, ABC123?12345678901234567?123456789
Please ensure your SMS message does not contain a text signature
Within minutes you should receive an SMS reply (from 3463).
That reply will indicate whether or not a security interest exists for the vehicle you searched.  To view more detailed information resulting from your search, including the details of any security interests found, you can complete your search online (which is the second way you can search). There are no further costs to finish searching via PPSR website.
The $3 Charge will be charged to your mobile phone.
2.
Searching via the PPSR website
To complete your search online you will need the SMS ID provided in the SMS reply (from 3463).  Using this search option will not initiate a new search but it will confirm the SMS search results received.
The search results you will see are correct as at date and time you submitted the SMS search using your mobile phone. 
You must also be a registered user of the PPSR and have a User ID and password. 
 
Log on to the PPSR website (see link) using your User ID and password.
Once logged on, you will see the 'PPSR Search' page.  Select Complete SMS Search.
Acknowledge that you have read and understood the declaration to confirm that your search is for a legitimate purpose.
Enter the SMS ID you received in your text message.
Select Submit Query and explore the results of your search
Its also possible to skip the TXTB4UBUY option and simply start your query from the website, you mobile phone wont be charged and instead you will need to pay the $3 by Credit card or Direct debit.
More Info Here
http://www.ppsr.govt.nz/cms/consumer-information/buying-a-mo...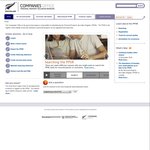 Related Store: Ppsr.govt.nz