expired Stream The First Seasons of 3 Amazon Originals for Free
60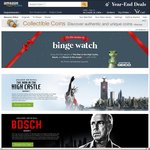 Affiliate
saw this on my amazon login, might be a bit late as ends 31st Dec in USA, so suggest start your binge now.
First seasons free for the following shows.
The Man in the High Castle (imdb rating 8.1)
Bosch (imdb rating 8.3)
Mozart in the Jungle (imdb rating 8.2)
Referral Links
Referral
:
random (34)
Referrer and referee receive purchase discount of $5 off a minimum purchase of $10.
Referral link must be opened on a mobile device with the latest Amazon App (iOS, Android) installed.