expired Sky Basic + Sky Sport, My-Sky and Free Installation $39 Per Month (Usually $94.71)
60
Call 0800 475 988 and ask for the $39 deal. Please note this is not the standard Sky number, it is their telemarketing number.
The base deal is: Sky Basic, + (6) Sports Channels, + My-Sky, & Free Installation for $39 per month.
For example:
. *** For those Sports-only fans, they will offer Sky Basic, Sky Sport, My Sky and free Installation = $39 per month (usually $94.71 per month) if you only want the Basic + 6 Sport channels***
or the $49 package:
• Sky Basic, 2 Premium channels, My Sky and free Installation = $49 per month (usually $115.74) - $800.88 savings over 12 months compared to existing subscriber rates. You can choose from Arts, Movies, Sports, Rialto etc.
This deal is for new customers only. you cannot have been a Sky subscriber within the previous 3 months. There is a minimum term of 6 months, and the special price will last for 12 months. After that it will return to the standard pricing. You can then cancel (Please remember to give 28 days notice of cancellation), and sign up to the deal again after 3 months if you wish..
tip is to have a look at the Sky packages and sort out your channel selection before ringing. https://skytv.custhelp.com/app/answers/detail/a_id/223/~/cha...
Unbeatable deals, Please ring 0800 475 988 and ask.
Good luck.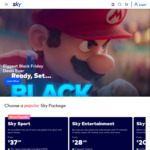 Related Store: SKY Television