expired $5 or $10 Rebel Sport Coupon with 3 or 6 Packs of 250ml Sanitarium Up&Go Liquid Breakfast Drinks
90
This previously and fairly popular deal has returned! Countdown is currently selling the 6 packs for $8. These drink packs are known to go on sale on a regular basis. Also best to use those Rebel Sport coupons during their weekly promotions.
Vouchers must be redeemed by 28 October 2017.
Vouchers can be used in conjunction with another UP&GO™ & Rebel Sport $5 or $10 Vouchers of up to the maximum value of $20 per transaction. You will be required to present an original purchase receipt clearly showing your purchase of an eligible UP&GO™ product upon redemption of Vouchers at Rebel Sport.
MORE TERMS AND CONDITIONS
Vouchers are non-assignable and only valid for the value stated.
Vouchers cannot be used or exchanged for any other products, nor redeemed for cash. There will be no change given if the full value of Vouchers are not redeemed.
Vouchers can be used only once by the recipient and must be surrendered on redemption.
Copies of Vouchers will not be valid and only originals will be accepted.
Vouchers are issued by Sanitarium Health & Wellbeing Company and can only be redeemed on surrender at Rebel Sport stores in New Zealand and cannot be used or redeemed for any Rebel Sports online purchases.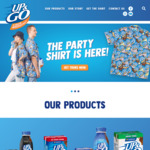 Related Store: upandgo.co.nz