expired 100% Cashback on Any NIVEA Micellar Products (1 Per Person)
140
To claim 100% of your money back, you will need a picture or scan of your receipt before you start the claim process. The scan needs to clearly show your receipt details including the date of purchase, the retailer and the product purchased. Please ensure your scan is less than 1MB in size and in one of the following formats – JPEG, PNG or PDF. Please keep a copy of your receipt.
NOTE: if you have purchased both the water and wipes you are entitled to two eftpos cards. Please submit two online redemption requests.
The promotion commences May 1st and closes June 11th, 2017. Claims must be submitted within 14 days of the date of purchase of an eligible product. Therefore claimants who have purchased on June 11th must submit their claim by June 25th, 2017.
1 claim per person.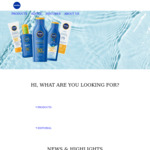 Related Store: Nivea NZ