expired Vodafone Smart Ultra 6 $159 @ Warehouse Stationary (in-Store Only)
40
Spotted this in my local Warehouse Stationary on Saturday. These were on clearance for $199 but now have a $159 (20% off) ticket.
I assume this is part of their Easter 20% off sale despite being clearance.
This is one of the best value handsets you'll find at this price locally - IMO
It isn't online anymore so I assume it is just what stock stores have left.
Long thread on Geekzone about the handset here -
http://www.geekzone.co.nz/forums.asp?forumid=97&topicid=1753...
5.5" 1080p IPS display
13MP camera
5MP front camera with smile detection
1.5GHz Octa core Snapdragon 615
2GB RAM
3,000mAh battery with Quick Charge
Android 5.0.2 Lollipop
16GB internal storage + Micro SD slot (Supports exFAT)
Double tap to wake
Full app permissions manager
Cat4 4G up to 150Mbps
Home button doubles as a notification light
Made by ZTE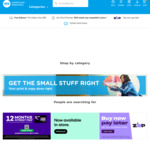 Related Store: Warehouse Stationery