expired Nutri Ninja BL480 IQ Blender $98 at JB Hi-Fi (with Email Voucher)
50
To help start a healthy year, get yourself $151 Off the current ticketed price of a Nutri Ninja BL480 IQ Blender (SKU 291856). That's only $98 with the coupon. Simply print out & present the Exclusive Coupon below at a selected JB Hi-Fi Store* in New Zealand. Limit of 1 per Voucher. While stocks last. Offer ends Sunday 15th January 2017. JB, you've done it again!
Lowest price ever according to Pricespy
Requires mailing list membership and email voucher
---
Instant deals: A unique coupon will be in your email inbox if you have signed up to instant deals here. If you aren't already signed up, join via that link. If you don't receive a coupon after sign up (can be instant, can take some hours), you may like to request one in the comments from ChoiceCheapies members who aren't using them (make sure your PM is on). We have a whole heap to spare for those that need one.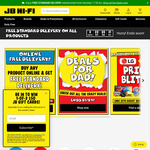 Related Store: JB Hi-Fi