expired NBA League Pass 2016-2017: $150CAD (~$156NZD) via Canada VPN ($339.99 Locally)
70
Copied from OzBargain:
SBOB on 28/09/2016 - 21:24 watch.nba.com (958 clicks)
Last edited 28/09/2016 - 23:43 by 1 other user
Its that time of year again..
NBA League Pass is open again for 2016-2017!
You can sign up locally for a pretty un-ozbargain $330, or you can sign up via a VPN to Canada for under $150
Ever so slightly cheaper via some other countries, but Canada is the easiest when it comes to VPN options
Getflix VPN works, but other ways to 'be' in Canada involve
- Windscribe which use a freemium model. You can still connect to the Canada VPN with a free account: https://windscribe.com/
- new version of Opera browser, which now has a VPN built into it: http://www.opera.com/blogs/desktop/2016/04/free-vpn-integrat...
(thanks to reddit for those tips)
Also, no longer is there a Standard and Premium sign up, so better value than last year as its effectively all 'premium' level,
Benefits are:
- LIVE NBA GAMES
- ON-DEMAND REPLAYS
- IN-GAME HIGHLIGHTS - More of the action you love at your fingertips. - Interactive Play-by-Play for each game.
- NEW MOBILE FEATURES - Watch games in Mobile View for an easier to watch, zoomed-in experience.
- VIDEO VAULT
- NBA TV LIVE
Cheaper than last year
(also a good thread for any questions which have likely already been answered)
Works out to be $156NZD which is much better than paying $339.99NZD!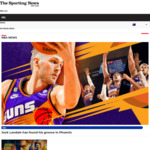 Related Store: NBA