WIN a 5 Day JUCY Campervan Rental!

Prizes
Description
1 x 5 day JUCY campervan rental
Total Prize Pool
$ 500.00
Entry Requirements
Entry Limit
One per person
Prerequisites
Survey/Questionnaire
We're giving away a 5 day JUCY campervan rental to one lucky winner!
Giving travellers the green light to have the time of their life, JUCY stand for being adventurous, enthusiastic, playful, big-hearted and social.
This competition is open from Tuesday the 10th of July 2018 and closes on Tuesday the 31st of July, 2018.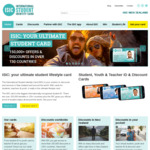 Related Store: isiccard.co.nz