10 Pieces Chicken $19.90 and More @ Texas Chicken

Texas chicken deals for July
Got these in an email, says show picture to receive the deal.
The crunch means we care and so do these deals. These exclusive deals are just for you, present them in store on your phone or printed out and enjoy crunch time!
3Pc Snack pack
3 Pieces Chicken, 1 small fries 1 small drink
$9.90
Megacrunch Dessert
Megacrunch Tex Supreme Combo, 1 Sundae
$12.90
10 PC Chicken Filler
10 Pieces Chicken (Spicy or Orginal)
$19.90
Crunchy Meal
12 Piece Chicken, any 3 large sides
$37.90
All expire 31/8/18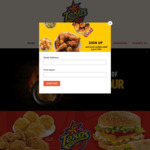 Related Store: Texas Chicken