expired Mysterium or Ticket to Ride [Steam] Free Via Asmodee
70
credit to Forgot69 @ Ozb.
Welcome to our Gen Con 2017 free game offer! Asmodee Digital is happy to offer you a free Steam version of either Ticket to Ride or Mysterium.
Redeeming your Steam key is easy! Make sure you sign in with your Asmodee.net account (you can create one for free if you don't have one yet), and then choose your preferred game.
You are not connected - please sign-in or create an account.
Problem using or creating your account? Problem with your Steam key? Contact us.
This redemption program is limited to Gen Con 2017 attendees. The offer is limited to one Steam key per person for one of two games: Ticket to Ride or Mysterium. A Steam key will activate a free installation for the base version of the selected game on the Steam platform on Windows (and Mac for Ticket to Ride). Additional expansions/DLC may be available at extra charge. A limited number of Steam keys is available. Steam keys will be delivered on a first-come, first-served basis. The program will end when all keys are exhausted or on August 20th, 2017, whichever comes first. Steam keys are not for resale and cannot be exchanged for cash or any other compensation by Asmodee Digital. Redeeming the key requires the use of an Asmodee.net account to register the key assignment and send it by e-mail to the user.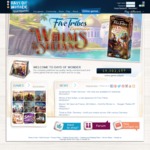 Related Store: asmodee.net