Has Anyone Had Any Experience of Using The Kkday.com Website?
I am off to Gold Coast next month and came across a good discount for visiting Currumbin Wildlife Sanctuary.
I can't find many reviews on using the site so before handing over my card details it would be good to hear if anyone else has had any experience booking anything through them?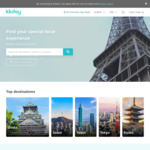 Related Store: KKday